Harry S. Patten, Founder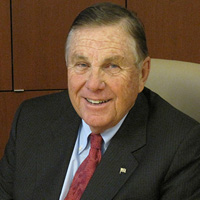 Harry S. Patten is the foremost buyer and seller of rural and recreational land in America. His companies have been featured in Inc, Business Week and the Wall Street Journal. Fortune Magazine named him of the year's "50 Most Fascinating Business People," and he is an honored member of the "Who's Who of American Business Leaders" as well as the distinguished Horatio Alger Association. He has generated billions of dollars in land sales over the course of his entire career, and continues to oversee National Land Partners, a successful land development company with sales offices throughout the United States.
In addition, Harry devotes much of his time to the Patten Family Foundation, where his philanthropic interests center primarily on the areas of health, education and financial literacy.
Few individuals have changed the way America lives and plays. Henry Ford is on that list. So is Steve Jobs. Harry Patten's name belongs there, too. In 1964, the New Hampshire native had a eureka moment when, according to Fortune, he realized that "rural landowners were unable to locate buyers for their property, while big-city folks frequently had trouble finding affordable country lots."
In the 50 years since, Harry's companies have generated billions in sales helping thousands of Americans buy millions of acres in 40 states. His companies are the largest buyers and sellers of recreational and residential land in the United States. To this day, the innovative marketing techniques that he developed are used by most major land development companies in the U.S., including National Land Partners, where he currently serves as Chairman. He is also the Chairman of the Board and President of Turboprop East, the largest independent aviation facility servicing Citation, King Air, and Piaggio aircraft in the Northeast.
In 2011, he was honored with the prestigious Horatio Alger Award and every year mentors scholars chosen by the organization to receive scholarships. In addition to his support of the Horatio Alger Association, Harry has been a longtime supporter of Junior Achievement of South Florida (JA) and Massachusetts General Hospital (MGH) through the Patten Family Foundation. At JA, his donation helped to fund the Patten Family Foundation Finance Park component, where more than 50,000 eighth grade students in Broward County learn fundamental financial skills through experiential learning. At MGH, Harry's philanthropy helped to fund the cancer floor in the Lunder building, which is also known as the "floor of hope".
In June 2016 the Patten Family Foundation made a grant to support the Peter T. Paul Entrepreneurship Center (ECenter) through the Wildcatalysts Network at UNH. The ECenter's goal, as an independent entity, is to support ideas, innovation and entrepreneurship through co-curricular programming. The Foundation also made an additional gift to UNH to support the recruitment initiatives to bring in students from outside New Hampshire and to increase the University's reputation in New Hampshire, the US and abroad. In 2017, Harry's family Foundation made a 3 year gift pledge to further support the incredible work being done at the UNH ECenter. Harry is proud to serve on the Foundation Board of his alma mater.
In 2018, Harry fulfilled a long-time interest in service dogs and through his generosity became a member of the Cornerstone Society of Southeastern Guide Dogs. His commitment to America's youth also resulted in the publication of What Kids Need to Succeed, which he co-authored with his daughter, Andrea.